Bruce and I have caught every one of the World Cup games so far. We're both huge Germany supporters, so the tourney opener was the priority, and we went all-out. A traditional Munich breakfast of Weisswurst and Hefeweizen got us in the mood for a fantastic game, won, of course, by Germany.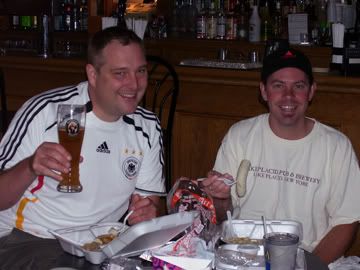 Our heroes being uber-dorky at
Monty's Korner
The Krown is a great place to watch the games, but the beer list could be better. It skews heavily toward ales,
Victory Prima Pils
being the only pilsener present. Still, the crowd is fantastic and really gets into it.
Bruce and I will be there again at 8:55 am for The Netherlands vs. Serbia & Montenegro, and we're staying for all three of Sunday's matches. Drop in. I've got the first round!
-Mark