For beer lovers, a visit to Europe is a mixed blessing. Finding oneself in a new country, a new city, surrounded by beers considered exotic back in the USA, it's easy to, shall we say, overdo it a bit. In fact, there's no alternative BUT to overdo it. There are so many beers to try in such a compressed period of time.
Such were the circumstances under which I found myself, debarking the 767, wearily trudging through the absurdly lengthy concourse of Brussels Airport, only to glimpse my first Leffe taps while still in the Arrivals hall.
This vacation was going to be trouble.
I am, however, a model of restraint and self-control. We dragged our jet-laggy asses into our hotel on the Boulevard Adolphe Max, in the heart of the busiest part of town, and had a nap before venturing out to experience cafe life in Belgium's first city.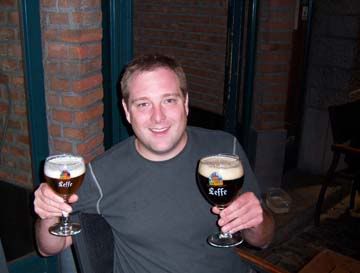 A blonde on one arm, a brunette on the other
Leffe Brown. Leffe Blonde. Orval. Duvel. Rodenbach. Westmalle. Achel. Some I've never tried. Some I can get here in Rochester, but nowhere near as fresh. It was like a candy store. Except the candy was Trappist and abbey ale. The beers that American beer lovers would savor and cellar here in the USA consumed as casually as Miller Genuine Draft by the Belgians.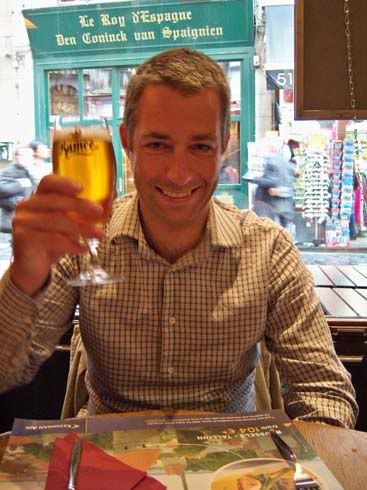 Christian Qvist, of Denmark, enjoys a Ramee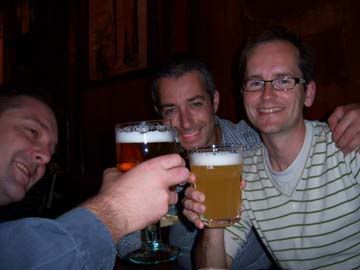 More drinking with the Danes
Of course, the setting provides a great deal of the enjoyment. Sipping a Kasteel Brown at a cafe on the Grand Place, or a refreshing Jupiler in the Place du Sablon, or being taught a lesson by a crusty old bar owner about Boons Kriek (the best fruit lambic in the world) in his backwater Flemish tavern- it definitely adds a new dimension to beer usually enjoyed only abstractly, without context.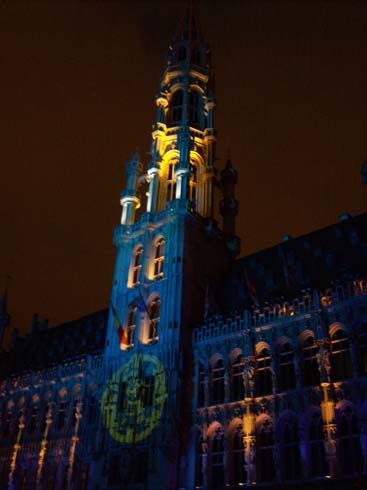 the Hotel de Ville at night, viewed from the touristy Roi d'Espagne bar in the Grand Place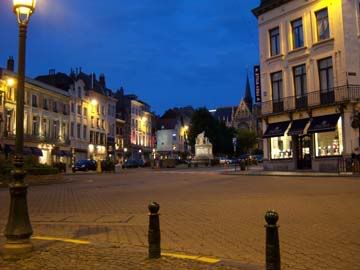 A beer-drinking backdrop in the Place du Grand Sablon
Sure, the hangovers were mighty and plentiful, but such is the life of a beer lover.
We stayed in Belgium for four days before hopping on a train heading randomly west, only to find ourselves in another fantastic beer town sipping from 0.2 liter glasses in the shadow of the largest gothic structure in the world. That's a story for another post...
Beer School this week
Since I have lambics on my mind, that's what we're hitting this Thursday, 7:30pm, at Monty's Korner. The famous fruit beers of Belgium await your eager palates!